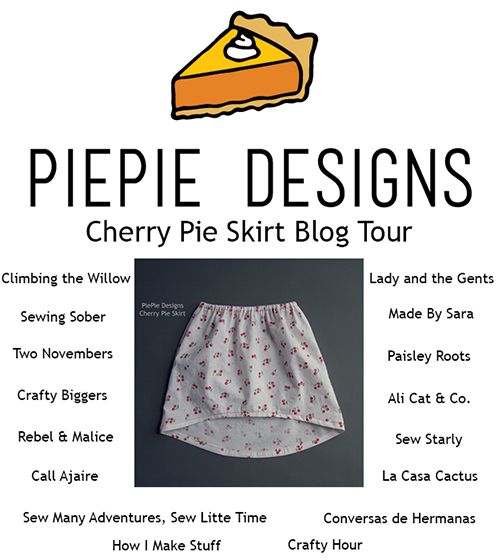 Climbing the Willow
.
Sewing Sober
.
Two Novembers
.
Crafty Biggers
.
Rebel & Malice
.
Call Ajaire
.
Sew Many Adventures, Sew Little Time
.
Lady and the Gents
.
Made by Sara
.
Paisley Roots
.
Ali Cat & Co
.
Sew Starly
.
La Casa Cactus
.
Conversas de Hermanas
.
How I Make Stuff
.
Crafty Hour
The adorable Lisa over at
PiePie Designs
has a brand new pattern out. This is a high low skirt pattern that ranges from 12 months to girls size 12 and has a TON of different options to personalize it. It can be made with knits or woven and it's a super quick sew. When I was given the opportunity to test the skirt I jumped at it. I am so happy to be able to share my version with you today.
Maddie really wanted me to make the skirt with the pre-ruffled fabric I had in my stash from a previous project. Since this can be made with knits as well I was game. According to the instructions, the height is the most important measurement for deciding size. Based on her height Maddie needed a size 8.
I used a knit waistband and did not hem the bottom of the skirt because folding in the ruffled fabric wasn't working so hot for me. :)
Maddie couldn't be happier with the finished look and I think she looks adorable as well.
Take a moment and enter the rafflecopter below for your chance to win a copy of this awesome pattern. If you have time you should check out some of the other versions of this skirt.



a Rafflecopter giveaway